Arise Advance
Portfolio Director: Don Allen
What we believe about self, others, the world, and ultimately God; does - and has to - change the way we live our lives privately, at church, socially, and vocationally. Because of this truth there is a desperate need within the disadvantaged African churches for the teaching and training of believers and visionary leaders.
In the African context many churches have unskilled and untrained leaders. Lack of opportunity and economics has disadvantaged leaders. In Don's many years of teaching various curriculums to disadvantaged people he has found that material is often too advanced, uncontextualized, and impractical. Also, there are too few people prepared to take the time and make the effort to train disadvantaged men and women.
Arise Advance seeks to meet some of this need as a teaching and training ministry based on biblical doctrine with a practical emphasis. We strive to assist and encourage believers in growth, maturity, and being over-comers due to skills and knowledge acquired.
The Programme
Don is currently developing a training programme that will address the need. It will be an eleven module course with approximately 15-20 lessons per module.
To view the basic outline click below (Pdf file):
The Programme in action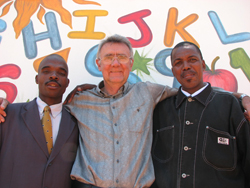 Musa (Emmaus) and Simon (Winterton) did the proto-type of the course in 2005. At the moment Don is pulling those materials together, modifying them, and organising them into teacher manuals, power point presentations, and work books. To test the material out Don is teaching it on a Wednesday night at the Berea Baptist Mission Church's bible study. He has also taught module 1 to a group of
± 110 church leaders in Malawi. He, together with Rev. Colin Diesel, will be returning this year, if the Lord permits, to teach module 2.
Other news...
Future plans are to teach the programme in the Emmaus region.
An invitation has been extended to visit Democratic Republic of Congo.
Dr. Gregory Pereira, an Arise MG board member and lecturer at the Baptist Theological Seminary in Johannesburg, has agreed to look over the material, edit if necesarry, and give relevant advice. Don is hoping that through him, and a second theological college, some form of formal recognition will be given for the course.